IoT News Magazine Q1 2017
Published by: James Bourne
Click here to go straight to the magazine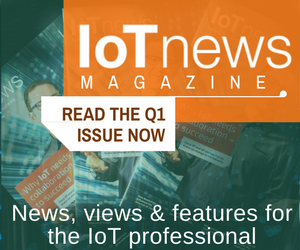 IoT News Magazine features the latest news, views, analysis and opinion on the Internet of Things ecosystem. Issue Q1 2017 includes key insights from Cisco, HCL Technologies, VMware, the IEEE and more, the first edition covers everything from how blockchain can influence the IoT, to best practice for smart city development, to preparing for an IoT consumer-facing bot invasion in 2017.
Log in to download this free Whitepaper
Submit details to download this free Whitepaper
Alternatively
This will only be used to quickly provide signup information and will not allow us to post to your account or appear on your timeline.